The long-delayed Chilcot Report has finally been published. It heavily criticises former PM Tony Blair, but despite concluding that a number of key points which he used to drag Britain into the disastrous and illegal war were 'not true', it pointedly fails to use the word 'LIE'.
The families of some of the British service personnel lost in the counter-productive conflict have generally welcomed the report, but are deeply disappointed that Blair has not be called out for what he is.
Get your digital copy today!
Sign up to receive the latest news and updates from Knights Templar International and get regular copies of our publications sent straight to your inbox!
Thank you, you will recieve your digital copy shortly!  Please check your spam/junk email to confirm.  We do not want you to miss out on this.
Tony Blair was today described as "the world's worst terrorist" by a woman who lost her brother in the Iraq war.
Sarah O'Connor broke down in tears as she answered questions on the long-awaited Chilcot report, which concluded that Blair had gone to war before "peaceful options for disarmament" had been exhausted.
"There is one terrorist in this world that the world needs to be aware of, and his name is Tony Blair, the world's worst terrorist," she said.
Sarah's brother, 38-year-old Sgt Bob O'Connor, was killed alongside nine other airmen when the Hercules plane they were in was shot down north-west of Baghdad in 2005.
The families have said they reserve the right to take legal action over their losses, but Matthew Jury, who represents the family members of 29 people who died, said it was too early to make decisions.
Several grieving mothers, fathers, partners and other family members had streamed into the Queen Elizabeth II Centre in London, where they were given an early glimpse of the 2.6m-word, 12-volume report.
The assembled relatives welcomed the report, with many saying it had set down in black and white what they had been arguing for more than a decade.
Rose Gentle, whose son Gordon was 19 when he was killed, said: "Now we can turn and say we have got the proof. Twelve years of fighting for my son have been worth it."
The anti-Iraq war campaigner Reg Keys said he felt his sonL/Cpl Thomas Keys had "died in vain" given the continuing atrocities in Iraq, including the car bombing in Baghdad this week that killed more than 250 people.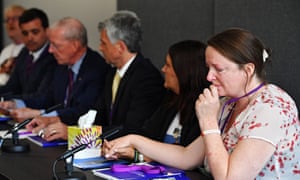 Keys has worked for 13 years to get the truth about the death of his 20-year-old son and those of 178 other UK military personnel during the short but devastating war.
He said he now knew his son had been deployed on a "falsehood" and hinted at further action, saying the Chilcot families now had "evidence to go forward with". He told reporters: "I wonder constantly what the expression was on Tom's face as he met his brutal end."
Pauline Graham, Gordon Gentle's grandmother and Rose Gentle's mother, said: "Now we know where we stand and what we can do. Tony Blair should be taken to court for trial for murder. He can't get away with this any more."