Hungarian government minister András Aradszki has told the country's parliament that is a 'Christian duty to struggle against the Satanic Soros Plan', and defend against assaults on faith, Europe, and the family.
Referencing the 'Three Secrets of Fatima', the apocalyptic visions revealed to three children by a Marian apparition in 1917 in Fatima, Portugal, the energy undersecretary said: "We see this [assault] in abortion, same-sex marriage, and the propagation of politicised gender theory."
Get your digital copy today!
Sign up to receive the latest news and updates from Knights Templar International and get regular copies of our publications sent straight to your inbox!
Thank you, you will recieve your digital copy shortly!  Please check your spam/junk email to confirm.  We do not want you to miss out on this.
"We see attacks against the great European family, when Soros and his comrades want to destroy the independence, autonomy, and values of the nation, and diluting the Christian spirit of Europe with the forced resettlement of tens of millions of foreign migrants," Mr. Aradszki, whose Christian Democratic People's Party (KDNP) is in coalition with Prime Minister Viktor Orbán's conservative Fidesz party, told fellow MPs on Monday.
"But the fight against Satan is a Christian duty. Yes, I speak of an attack by Satan, who is also the angel of denial, because they are denying what they are preparing to do — even when it is completely obvious. They frantically try to prove that there is no quota, there is no compulsory settlement, and the Soros Plan does not exist."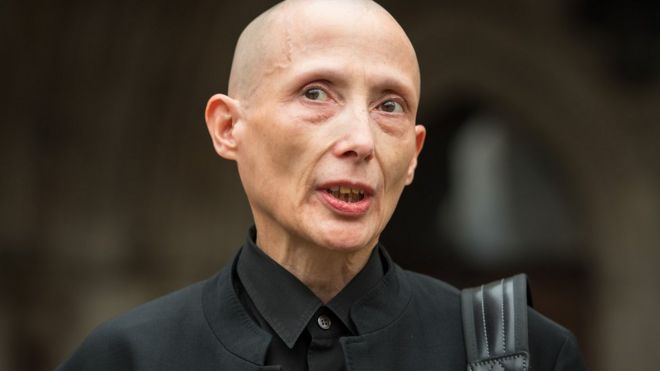 Meanwhile, not a day now goes by in Britain without several examples of the utter insanity of the 'gender theory' that is part of the Satanic attack on our civilisation. Here are just two of yesterday's:
Transgender Christie Elan-Cane – who is a real creature, not a made-up extra from the Dark Side in Lord of the Rings – wants passports to have an "X" category, which could be used by those who consider themselves neither fully male or female.
The campaigner has fought since 1995 for this right. The cost to the taxpayer has not been revealed.
At a hearing in London, Mr Justice Gilbert granted Christie Elan-Cane permission to bring a judicial review. A full hearing of the challenge to the government's policy will now be held on a date to be fixed.
Meanwhile, a Scotland Yard police officer in London is now the first gender-fluid officer in the United Kingdom, switching between a male and female identity, depending on which particular one the officer feels like that day.
Metropolitan Police have issued the officer two separate warrant ID cards: one for his male name, Callum, and one for her female name, Abi, after launching a diversity project encouraging the officers on their force to "be themselves" at work, according to The Sun.
Calling the initiative "Bring Your Whole Self to Work," the department sent out an internal memo to all 43,607 officers announcing the news. Many officers have said it's a total waste of money for the cash-strapped force.
Callum, who was born male, is a 13-year veteran on the force and said he was happy to hear of the recent changes accepting his lifestyle.
"The first time I walked into a Met building as Abi, I was hyperventilating so much I almost passed out," the officer said. "I've done it a handful of times since and felt so happy that I got to be me at work."
And the USA?
The state of California has made it a mere misdemeanor to knowingly infect sexual partners with HIV. Democratic legislators said last month that charging bug spreaders with a felony is "homophobic" and "discriminatory."
From RT:

California Governor Jerry Brown has signed a bill that reduces the crime of knowingly exposing a sexual partner to HIV without informing them from a felony to a misdemeanor.

Friday's Senate Bill 239 also applies to those who donate blood without disclosing their HIV status to the blood bank.

It was authored by Senator Scott Wiener (D-San Francisco) and Assemblyman Todd Gloria (D-San Diego).