Following a devastating blow to the abortion industry in Northern Ireland, Amnesty International is so desperate to see child murder legalised in the Irish Republic that it is breaking the law by refusing to return a massive illegal donation from George Soros.
The Republic of Ireland's ethics watchdog, which enforces the country's legislation, has ordered far-left Amnesty to return the €137,000 (£120,000/$161,000) to the Soros-run Open Society Foundations because the donation breaches the country's laws prohibiting foreign donors from contributing to political campaigns.
The donation is intended for Amnesty's My Body My Rights campaign, which advocates repealing Ireland's pro-life Eighth Amendment. The 'civil society' organisation's chief executive in Ireland, Colm O'Gorman, told The Irish Times: "We're being asked to comply with a law that violates human rights, and we can't do that."
Get your digital copy today!
Sign up to receive the latest news and updates from Knights Templar International and get regular copies of our publications sent straight to your inbox!
Thank you, you will recieve your digital copy shortly!  Please check your spam/junk email to confirm.  We do not want you to miss out on this.
Homosexual O'Gorman, seen here with his two adopted children, is well paid for breaking the law in an effort to kill babies, rakes in €100,000 a year from his Amnesty job.
"Ireland is targeting Amnesty International purely for its human rights work," O'Gorman added. "This decision is an indefensible attack on human rights defenders, and shocking evidence of the real threat the Electoral Act poses to wider civil society organisations in Ireland."
The Catholic republic is set to hold a referendum in Summer 2018 on whether to legalise the murder of unborn babies. Leo Varadkar, the country's first openly gay prime minister, said the plebiscite would "give the people of Ireland the opportunity to remove our constitutional ban on abortion, should they wish to do so".
Ireland's Eighth Amendment to the Republic's Constitution states that the right to life of the mother and the unborn child are equal.
OFS provides nearly 2.5 per cent of Amnesty International's annual income, and Amnesty has previously raised its 'concerns' regarding sovereign nations' laws prohibiting the foreign-funding of elections and referendums.
A probe last year by the Irish Independent found that the OFS pledged to fund three Irish organisations to "work collectively on a campaign to repeal Ireland's constitutional amendment granting equal rights to an implanted embryo as the pregnant woman".
The push to promote abortion in Eire comes on the back of the welcome news that the only abortion factory in Northern Ireland closed for good last Friday.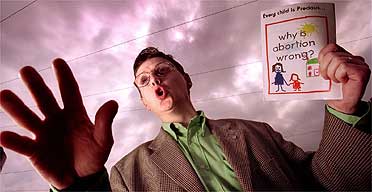 Marie Stopes UK has announced it is closing its clinic in Belfast. The decision is a massive victory for the joint traditional Catholic/Presbyterian campaign against it, which has seen demonstrations and vigils outside the death mill for five solid years.
Marie Stopes has tried to avoid admitting defeat by claiming that the closure is the result of a Labour-led push for a change in the law which has seen the British government announced that fees for women from Northern Ireland travelling to England to undergo abortion procedures will be lifted.
"Ultimately, we believe that Northern Irish law should change to give women the right to access services without having to travel to England. Until that happens, we will continue to provide funded treatment for Northern Irish women in England – services that they should be legally granted in Northern Ireland."
Green Party MLA Clare Bailey said she is "saddened" that the death clinic has closed and complained that Northern Ireland doctors have not received any information about the new arrangements across the water.
Ireland is the only place in Western Europe which does not have abortion, and where the indigenous birthrate is at replacement level. Naturally, this makes it a particular target for George Soros, and other supporters and advocates of the replacement of Europeans in their own homelands.